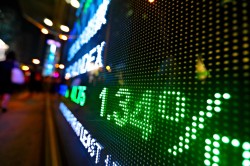 COMPANHIA ENERG/S (OTCMKTS:CESDY) was upgraded by investment analysts at ValuEngine from a "hold" rating to a "buy" rating in a note issued to investors on Tuesday.
Shares of CESDY opened at $5.94 on Tuesday. COMPANHIA ENERG/S has a 52-week low of $4.14 and a 52-week high of $6.40. The company has a debt-to-equity ratio of 0.01, a current ratio of 1.35 and a quick ratio of 1.35. The stock has a market capitalization of $1.95 billion, a P/E ratio of 53.64 and a beta of 1.51.
COMPANHIA ENERG/S Company Profile
CESP – Companhia Energética de São Paulo engages in the planning, construction, and operation of electricity generation systems in Brazil. The company operates three hydroelectric power plants, including 18 generating units with a total installed capacity of 1,654.6 megawatts located in the Parana River basin in the west and the Paraiba do Sul River basin in the east of São Paulo state.
See Also: Technical Analysis
To view ValuEngine's full report, visit ValuEngine's official website.
Receive News & Ratings for COMPANHIA ENERG/S Daily - Enter your email address below to receive a concise daily summary of the latest news and analysts' ratings for COMPANHIA ENERG/S and related companies with MarketBeat.com's FREE daily email newsletter.