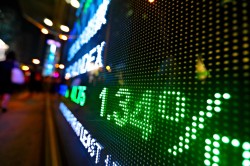 U.S. Global Investors, Inc. (NASDAQ:GROW) shares were up 11.9% on Monday . The company traded as high as $1.28 and last traded at $1.28. Approximately 554,851 shares traded hands during trading, an increase of 639% from the average daily volume of 75,119 shares. The stock had previously closed at $1.14.
U.S. Global Investors (NASDAQ:GROW) last posted its quarterly earnings data on Tuesday, February 12th. The asset manager reported ($0.21) earnings per share for the quarter. U.S. Global Investors had a negative net margin of 72.71% and a negative return on equity of 16.46%. The company had revenue of $1.80 million for the quarter.
The business also recently disclosed a monthly dividend, which will be paid on Monday, June 24th. Investors of record on Monday, June 10th will be given a dividend of $0.0025 per share. This represents a $0.03 dividend on an annualized basis and a yield of 2.44%. The ex-dividend date is Friday, June 7th.
An institutional investor recently bought a new position in U.S. Global Investors stock. Toroso Investments LLC bought a new stake in shares of U.S. Global Investors, Inc. (NASDAQ:GROW) during the 4th quarter, according to its most recent filing with the Securities and Exchange Commission. The firm bought 217,799 shares of the asset manager's stock, valued at approximately $239,000. Toroso Investments LLC owned about 1.44% of U.S. Global Investors at the end of the most recent quarter. 24.01% of the stock is owned by institutional investors and hedge funds.
TRADEMARK VIOLATION WARNING: This story was reported by WKRB News and is owned by of WKRB News. If you are viewing this story on another website, it was illegally stolen and republished in violation of United States & international trademark and copyright law. The legal version of this story can be accessed at https://www.wkrb13.com/2019/05/15/u-s-global-investors-grow-trading-up-11-9.html.
U.S. Global Investors Company Profile (NASDAQ:GROW)
U.S. Global Investors, Inc is a publicly owned investment manager. The firm primarily provides its services to investment companies. It also provides its services to pooled investment vehicles. The firm manages equity and fixed income mutual funds for its clients. It also manages hedge funds. The firm also manages exchange traded funds.
See Also: What are the components of an earnings report?

Receive News & Ratings for U.S. Global Investors Daily - Enter your email address below to receive a concise daily summary of the latest news and analysts' ratings for U.S. Global Investors and related companies with MarketBeat.com's FREE daily email newsletter.