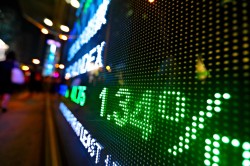 Genie Energy Ltd (NYSE:GNE) has earned an average broker rating score of 3.00 (Hold) from the one analysts that provide coverage for the stock, Zacks Investment Research reports. One equities research analyst has rated the stock with a hold recommendation.
Zacks has also given Genie Energy an industry rank of 188 out of 256 based on the ratings given to its competitors.
Several equities analysts have recently commented on the stock. ValuEngine lowered shares of Genie Energy from a "buy" rating to a "hold" rating in a report on Monday, April 1st. Noble Financial assumed coverage on shares of Genie Energy in a report on Wednesday, March 20th. They issued a "hold" rating on the stock.
Several hedge funds have recently modified their holdings of GNE. Willingdon Wealth Management acquired a new position in shares of Genie Energy in the 1st quarter worth approximately $26,000. D. E. Shaw & Co. Inc. purchased a new stake in Genie Energy during the 4th quarter worth approximately $60,000. Deutsche Bank AG increased its stake in Genie Energy by 538.5% during the 4th quarter. Deutsche Bank AG now owns 14,059 shares of the oil and gas producer's stock worth $84,000 after buying an additional 11,857 shares during the period. State of Tennessee Treasury Department purchased a new stake in Genie Energy during the 1st quarter worth approximately $87,000. Finally, Bailard Inc. purchased a new stake in Genie Energy during the 4th quarter worth approximately $134,000. Hedge funds and other institutional investors own 16.12% of the company's stock.
NYSE:GNE traded down $0.24 on Friday, hitting $9.88. The stock had a trading volume of 9,178 shares, compared to its average volume of 203,771. The company has a debt-to-equity ratio of 0.03, a current ratio of 2.02 and a quick ratio of 1.73. The firm has a market capitalization of $270.37 million, a price-to-earnings ratio of 11.04 and a beta of 1.55. Genie Energy has a 1-year low of $4.81 and a 1-year high of $10.55.
Genie Energy (NYSE:GNE) last posted its earnings results on Monday, May 6th. The oil and gas producer reported $0.21 earnings per share for the quarter, beating the consensus estimate of $0.05 by $0.16. The company had revenue of $86.62 million for the quarter, compared to analyst estimates of $72.40 million. Genie Energy had a net margin of 8.18% and a return on equity of 37.04%. As a group, equities analysts anticipate that Genie Energy will post 0.8 earnings per share for the current fiscal year.
The business also recently disclosed a quarterly dividend, which will be paid on Friday, May 31st. Stockholders of record on Monday, May 20th will be issued a $0.075 dividend. The ex-dividend date of this dividend is Friday, May 17th. This represents a $0.30 annualized dividend and a dividend yield of 3.04%. Genie Energy's dividend payout ratio is currently 33.33%.
About Genie Energy
Genie Energy Ltd., through its subsidiaries, operates as a retail energy provider; and an oil and gas exploration company. The company operates through three segments: Genie Retail Energy; Genie Energy Services; and Genie Oil and Gas, Inc It resells electricity and natural gas to residential and small business customers primarily in the Eastern and Midwestern United States, as well as in the United Kingdom, Japan, and Finland.
Recommended Story: What are gap-up stocks?
Get a free copy of the Zacks research report on Genie Energy (GNE)
For more information about research offerings from Zacks Investment Research, visit Zacks.com
Receive News & Ratings for Genie Energy Daily - Enter your email address below to receive a concise daily summary of the latest news and analysts' ratings for Genie Energy and related companies with MarketBeat.com's FREE daily email newsletter.