GATX Co. (NYSE:GATX) declared a quarterly dividend on Wednesday, May 1st, Wall Street Journal reports. Shareholders of record on Friday, June 14th will be paid a dividend of 0.46 per share by the transportation company on Sunday, June 30th. This represents a $1.84 dividend on an annualized basis and a dividend yield of 2.44%. The ex-dividend date of this dividend is Thursday, June 13th.
GATX has a dividend payout ratio of 36.4% indicating that its dividend is sufficiently covered by earnings. Analysts expect GATX to earn $5.18 per share next year, which means the company should continue to be able to cover its $1.84 annual dividend with an expected future payout ratio of 35.5%.
Shares of NYSE:GATX opened at $75.32 on Wednesday. GATX has a 52 week low of $67.46 and a 52 week high of $91.12. The firm has a market capitalization of $2.69 billion, a price-to-earnings ratio of 14.43, a price-to-earnings-growth ratio of 0.99 and a beta of 1.48. The company has a debt-to-equity ratio of 2.64, a current ratio of 2.87 and a quick ratio of 2.87.
GATX (NYSE:GATX) last issued its quarterly earnings data on Wednesday, April 24th. The transportation company reported $1.12 EPS for the quarter, missing analysts' consensus estimates of $1.19 by ($0.07). GATX had a return on equity of 9.10% and a net margin of 12.86%. The business had revenue of $317.00 million during the quarter, compared to analysts' expectations of $307.14 million. During the same period in the previous year, the business earned $1.98 earnings per share. The business's quarterly revenue was up 3.8% on a year-over-year basis. As a group, research analysts expect that GATX will post 5.03 EPS for the current fiscal year.
A number of brokerages have commented on GATX. Zacks Investment Research cut shares of GATX from a "buy" rating to a "hold" rating in a research note on Tuesday, April 9th. Mizuho set a $87.00 price objective on shares of GATX and gave the stock a "buy" rating in a research note on Wednesday, March 27th. Three research analysts have rated the stock with a hold rating and three have assigned a buy rating to the company's stock. The company currently has a consensus rating of "Buy" and an average price target of $82.00.
In related news, VP William M. Muckian sold 4,200 shares of GATX stock in a transaction dated Monday, June 10th. The shares were sold at an average price of $75.13, for a total transaction of $315,546.00. Following the completion of the transaction, the vice president now directly owns 11,860 shares of the company's stock, valued at approximately $891,041.80. The transaction was disclosed in a filing with the SEC, which is available through the SEC website. 3.72% of the stock is currently owned by insiders.
TRADEMARK VIOLATION WARNING: This news story was first posted by WKRB News and is the property of of WKRB News. If you are viewing this news story on another site, it was copied illegally and reposted in violation of international copyright & trademark law. The correct version of this news story can be read at https://www.wkrb13.com/2019/06/12/gatx-co-plans-quarterly-dividend-of-0-46-nysegatx.html.
GATX Company Profile
GATX Corporation leases, operates, manages, and remarkets assets in the rail and marine markets worldwide. The company operates through four segments: Rail North America, Rail International, Portfolio Management, and American Steamship Company (ASC). The Rail North America segment primarily leases railcars and locomotives.
Featured Article: What economic reports are most valuable to investors?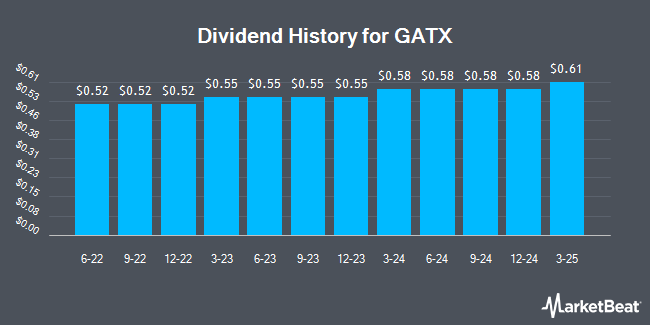 Receive News & Ratings for GATX Daily - Enter your email address below to receive a concise daily summary of the latest news and analysts' ratings for GATX and related companies with MarketBeat.com's FREE daily email newsletter.