Wall Street brokerages forecast that Ready Capital Corp (NYSE:RC) will report $0.36 earnings per share for the current fiscal quarter, according to Zacks. Two analysts have provided estimates for Ready Capital's earnings. The highest EPS estimate is $0.38 and the lowest is $0.34. Ready Capital reported earnings of $0.47 per share during the same quarter last year, which would indicate a negative year over year growth rate of 23.4%. The business is expected to announce its next quarterly earnings report on Tuesday, August 6th.
On average, analysts expect that Ready Capital will report full-year earnings of $1.59 per share for the current year, with EPS estimates ranging from $1.51 to $1.68. For the next financial year, analysts expect that the company will report earnings of $1.83 per share, with EPS estimates ranging from $1.81 to $1.85. Zacks' earnings per share calculations are a mean average based on a survey of sell-side research firms that that provide coverage for Ready Capital.
Ready Capital (NYSE:RC) last posted its earnings results on Wednesday, May 8th. The real estate investment trust reported $0.34 earnings per share (EPS) for the quarter, missing analysts' consensus estimates of $0.42 by ($0.08). Ready Capital had a net margin of 31.79% and a return on equity of 8.73%. The business had revenue of $12.98 million during the quarter, compared to analyst estimates of $15.00 million.
RC has been the topic of several recent research reports.
Zacks Investment Research
downgraded Ready Capital from a "buy" rating to a "hold" rating in a report on Wednesday, March 13th.
ValuEngine
lowered Ready Capital from a "hold" rating to a "sell" rating in a research report on Saturday, April 13th. One equities research analyst has rated the stock with a sell rating, three have issued a hold rating and five have given a buy rating to the company's stock. The company presently has a consensus rating of "Hold" and an average price target of $17.14.
In related news, Director Todd M. Sinai acquired 3,500 shares of the firm's stock in a transaction that occurred on Wednesday, May 15th. The stock was purchased at an average cost of $14.74 per share, for a total transaction of $51,590.00. The acquisition was disclosed in a filing with the SEC, which is available through this hyperlink. 2.51% of the stock is owned by corporate insiders.
Institutional investors have recently bought and sold shares of the stock. Great West Life Assurance Co. Can acquired a new stake in shares of Ready Capital in the first quarter worth approximately $26,000. Nisa Investment Advisors LLC purchased a new stake in Ready Capital in the first quarter valued at $29,000. Quantamental Technologies LLC purchased a new stake in Ready Capital in the first quarter valued at $32,000. Gemmer Asset Management LLC purchased a new stake in Ready Capital in the first quarter valued at $40,000. Finally, Federated Investors Inc. PA acquired a new stake in shares of Ready Capital in the first quarter valued at $40,000. 36.88% of the stock is currently owned by hedge funds and other institutional investors.
Shares of NYSE RC traded up $0.05 during trading hours on Wednesday, reaching $14.87. 165,265 shares of the stock were exchanged, compared to its average volume of 179,357. The firm has a market cap of $650.39 million, a P/E ratio of 8.45 and a beta of 0.77. The company has a current ratio of 1.63, a quick ratio of 1.63 and a debt-to-equity ratio of 0.44. Ready Capital has a 52 week low of $13.44 and a 52 week high of $17.30.
About Ready Capital
Ready Capital Corporation operates as a real estate finance company in the United States. The company originates, acquires, finances, and services small balance commercial (SBC) loans, small business administration (SBA) loans, and residential mortgage loans, as well as mortgage backed securities collateralized primarily by SBC loans, or other real estate-related investments.
Featured Story: What is a conference call?

Get a free copy of the Zacks research report on Ready Capital (RC)
For more information about research offerings from Zacks Investment Research, visit Zacks.com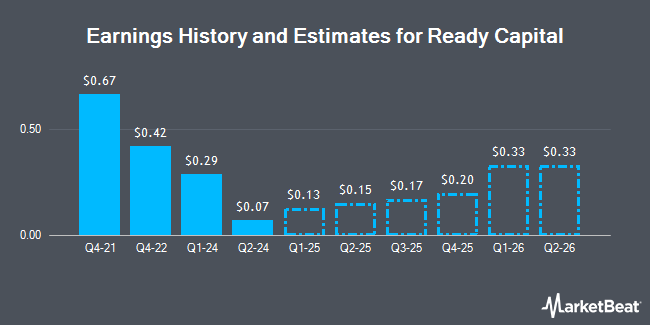 Receive News & Ratings for Ready Capital Daily - Enter your email address below to receive a concise daily summary of the latest news and analysts' ratings for Ready Capital and related companies with MarketBeat.com's FREE daily email newsletter.