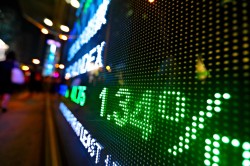 Universal Corp (NYSE:UVV) announced a quarterly dividend on Wednesday, May 22nd, RTT News reports. Shareholders of record on Monday, July 8th will be given a dividend of 0.76 per share on Monday, August 5th. This represents a $3.04 dividend on an annualized basis and a yield of 4.85%. The ex-dividend date is Friday, July 5th. This is a boost from Universal's previous quarterly dividend of $0.75.
Universal has increased its dividend payment by an average of 7.7% per year over the last three years and has raised its dividend every year for the last 47 years.
UVV stock opened at $62.70 on Thursday. The company has a debt-to-equity ratio of 0.27, a current ratio of 6.26 and a quick ratio of 3.50. Universal has a 52-week low of $50.67 and a 52-week high of $76.98. The company's 50-day moving average price is $57.94. The company has a market capitalization of $1.53 billion, a PE ratio of 13.70 and a beta of 0.72.
Universal (NYSE:UVV) last released its earnings results on Wednesday, May 22nd. The company reported $1.26 earnings per share for the quarter. The business had revenue of $671.72 million during the quarter. Universal had a net margin of 4.68% and a return on equity of 8.21%.
In other Universal news, VP Preston Douglas Wigner sold 2,500 shares of the firm's stock in a transaction that occurred on Wednesday, May 29th. The shares were sold at an average price of $56.25, for a total value of $140,625.00. The sale was disclosed in a legal filing with the SEC, which can be accessed through this hyperlink. Also, insider James A. Huffman sold 1,745 shares of the firm's stock in a transaction that occurred on Tuesday, June 11th. The shares were sold at an average price of $60.50, for a total transaction of $105,572.50. The disclosure for this sale can be found here. In the last ninety days, insiders have sold 6,107 shares of company stock valued at $352,518. Company insiders own 2.50% of the company's stock.
Universal Company Profile
Universal Corporation engages in the supply of leaf tobacco products worldwide. The company operates through North America, South America, Africa, Europe, Asia, Dark Air-Cured, Oriental, and Special Services segments. It is involved in procuring, financing, processing, packing, storing, and shipping leaf tobacco for sale to manufacturers of consumer tobacco products.
Featured Story: Outperform Rating
Receive News & Ratings for Universal Daily - Enter your email address below to receive a concise daily summary of the latest news and analysts' ratings for Universal and related companies with MarketBeat.com's FREE daily email newsletter.