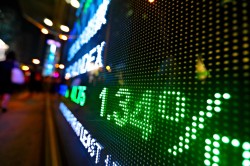 CHINA RWY GRP L/ADR (OTCMKTS:CRWOY) announced an annual dividend on Wednesday, July 3rd, Zacks reports. Investors of record on Monday, July 15th will be paid a dividend of 0.369 per share on Monday, August 12th. This represents a dividend yield of 1.91%. The ex-dividend date is Friday, July 12th.
Shares of OTCMKTS:CRWOY opened at $18.53 on Wednesday. CHINA RWY GRP L/ADR has a one year low of $17.58 and a one year high of $23.79. The company's 50-day moving average is $18.57.
Separately, ValuEngine downgraded CHINA RWY GRP L/ADR from a "hold" rating to a "sell" rating in a report on Saturday, May 18th.
CHINA RWY GRP L/ADR Company Profile
China Railway Group Limited, together with its subsidiaries, operates as an integrated construction company in the People's Republic of China. Its Infrastructure Construction segment constructs railways, highways, bridges, tunnels, metropolitan railways, buildings, irrigation works, hydroelectricity projects, ports, docks, airports, and other municipal works.
Read More: What is net income?
Receive News & Ratings for CHINA RWY GRP L/ADR Daily - Enter your email address below to receive a concise daily summary of the latest news and analysts' ratings for CHINA RWY GRP L/ADR and related companies with MarketBeat.com's FREE daily email newsletter.