Albany International (NYSE:AIN) announced its quarterly earnings data on Tuesday. The textile maker reported $1.09 earnings per share (EPS) for the quarter, beating the consensus estimate of $0.85 by $0.24, Fidelity Earnings reports. Albany International had a net margin of 10.41% and a return on equity of 16.39%. The company had revenue of $273.95 million for the quarter, compared to analysts' expectations of $267.75 million.
Shares of Albany International stock traded up $6.99 during trading on Wednesday, hitting $85.99. The stock had a trading volume of 523,219 shares, compared to its average volume of 169,838. The stock has a market capitalization of $2.55 billion, a price-to-earnings ratio of 33.46 and a beta of 1.71. Albany International has a 12 month low of $58.06 and a 12 month high of $86.96. The company's 50-day moving average price is $79.82. The company has a debt-to-equity ratio of 0.78, a quick ratio of 2.49 and a current ratio of 2.99.
The company also recently declared a quarterly dividend, which was paid on Monday, July 8th. Stockholders of record on Friday, June 7th were issued a $0.18 dividend. The ex-dividend date of this dividend was Thursday, June 6th. This represents a $0.72 annualized dividend and a dividend yield of 0.84%. Albany International's payout ratio is currently 28.02%.
In other news, Director Christine L. Standish sold 1,616,000 shares of the company's stock in a transaction on Tuesday, June 4th. The shares were sold at an average price of $64.67, for a total value of $104,506,720.00. Following the transaction, the director now owns 6,595 shares of the company's stock, valued at $426,498.65. The transaction was disclosed in a legal filing with the SEC, which is available at
the SEC website
. Corporate insiders own 10.99% of the company's stock.
AIN has been the subject of a number of research analyst reports. ValuEngine downgraded shares of Albany International from a "buy" rating to a "hold" rating in a research report on Wednesday, July 17th. Alembic Global Advisors assumed coverage on Albany International in a research note on Friday, June 28th. They set a "neutral" rating and a $90.00 price target on the stock. Finally, Zacks Investment Research lowered Albany International from a "buy" rating to a "hold" rating in a research note on Friday, July 26th. Six analysts have rated the stock with a hold rating and one has issued a buy rating to the company. Albany International currently has a consensus rating of "Hold" and an average price target of $87.50.
About Albany International
Albany International Corp. engages in the textile and materials processing businesses. The company operates in two segments, Machine Clothing (MC) and Albany Engineered Composites (AEC). The MC segment designs, manufactures, and markets paper machine clothing. This segment offers forming, pressing, and dryer fabrics, as well as process belts.
See Also: Is it Safe to Invest in Commodities?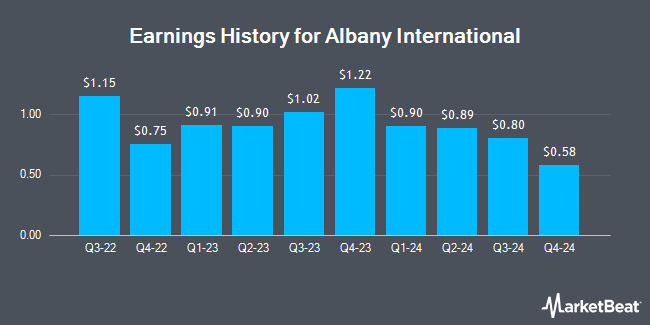 Receive News & Ratings for Albany International Daily - Enter your email address below to receive a concise daily summary of the latest news and analysts' ratings for Albany International and related companies with MarketBeat.com's FREE daily email newsletter.