Dana (NYSE:DAN) issued an update on its FY19 earnings guidance on Wednesday morning. The company provided earnings per share (EPS) guidance of $2.95-$3.45 for the period, compared to the Thomson Reuters consensus estimate of $3.31. The company issued revenue guidance of $8.95-$9.35 billion, compared to the consensus revenue estimate of $9.07 billion.Dana also updated its FY 2019 guidance to $2.95-3.45 EPS.
Shares of Dana stock traded down $2.02 during mid-day trading on Wednesday, hitting $17.17. The stock had a trading volume of 2,381,574 shares, compared to its average volume of 1,538,092. The firm's 50-day simple moving average is $18.46. Dana has a 12-month low of $12.65 and a 12-month high of $21.79. The company has a current ratio of 1.63, a quick ratio of 1.02 and a debt-to-equity ratio of 1.67. The company has a market cap of $2.81 billion, a price-to-earnings ratio of 5.78, a P/E/G ratio of 1.66 and a beta of 2.19.
Dana (NYSE:DAN) last posted its quarterly earnings results on Thursday, May 2nd. The auto parts company reported $0.78 earnings per share for the quarter, beating the consensus estimate of $0.73 by $0.05. Dana had a net margin of 5.11% and a return on equity of 31.31%. The business had revenue of $2.16 billion during the quarter, compared to analysts' expectations of $2.18 billion. During the same quarter in the prior year, the company posted $0.75 EPS. The business's revenue for the quarter was up 1.2% on a year-over-year basis. On average, equities research analysts anticipate that Dana will post 3.31 earnings per share for the current year.
Several analysts have recently weighed in on DAN shares.
ValuEngine
raised shares of Zogenix from a buy rating to a strong-buy rating in a research note on Thursday, June 27th. Wolfe Research cut shares of Southwestern Energy from a peer perform rating to an underperform rating in a research note on Thursday, April 18th. Credit Suisse Group began coverage on shares of Magna International in a research note on Wednesday, June 26th. They issued a neutral rating and a $55.00 price target for the company. Finally,
Zacks Investment Research
cut shares of Comfort Systems USA from a hold rating to a sell rating in a research report on Tuesday. One investment analyst has rated the stock with a sell rating, four have issued a hold rating and seven have issued a buy rating to the company. Dana presently has a consensus rating of Buy and a consensus target price of $21.10.
In related news, VP James D. Kellett sold 2,825 shares of the stock in a transaction that occurred on Friday, May 17th. The shares were sold at an average price of $16.05, for a total transaction of $45,341.25. Following the completion of the transaction, the vice president now owns 2,704 shares of the company's stock, valued at approximately $43,399.20. The transaction was disclosed in a filing with the Securities & Exchange Commission, which is accessible through the SEC website. Company insiders own 0.75% of the company's stock.
About Dana
Dana Incorporated provides drive and motion products, sealing solutions, thermal-management technologies, and fluid-power products to vehicle and engine manufacturer in North America, Europe, South America, and the Asia Pacific. The company operates in four segments: Light Vehicle Driveline Technologies, Commercial Vehicle Driveline Technologies, Off-Highway Drive and Motion Technologies, and Power Technologies.
See Also: What is a back-end load?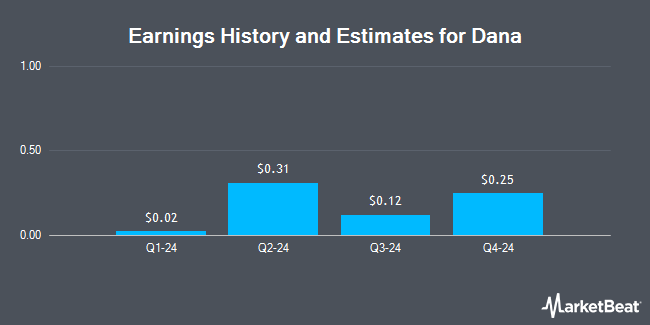 Receive News & Ratings for Dana Daily - Enter your email address below to receive a concise daily summary of the latest news and analysts' ratings for Dana and related companies with MarketBeat.com's FREE daily email newsletter.