Redwood Trust (NYSE:RWT) is scheduled to post its quarterly earnings results after the market closes on Thursday, August 1st. Analysts expect Redwood Trust to post earnings of $0.36 per share for the quarter. Individual interested in registering for the company's earnings conference call can do so using this link.
Redwood Trust (NYSE:RWT) last announced its quarterly earnings results on Wednesday, May 8th. The real estate investment trust reported $0.36 earnings per share (EPS) for the quarter, missing the Thomson Reuters' consensus estimate of $0.38 by ($0.02). Redwood Trust had a return on equity of 10.86% and a net margin of 24.71%. The company had revenue of $32.00 million for the quarter, compared to the consensus estimate of $44.20 million. During the same quarter last year, the company posted $0.60 EPS. The company's quarterly revenue was down 8.6% compared to the same quarter last year. On average, analysts expect Redwood Trust to post $1 EPS for the current fiscal year and $2 EPS for the next fiscal year.
Redwood Trust stock traded up $0.01 during trading on Wednesday, hitting $16.99. 6,166 shares of the company were exchanged, compared to its average volume of 501,161. The firm has a 50 day simple moving average of $16.40. Redwood Trust has a 52 week low of $14.29 and a 52 week high of $17.16. The company has a market capitalization of $1.63 billion, a P/E ratio of 9.53 and a beta of 0.67. The company has a debt-to-equity ratio of 5.30, a current ratio of 4.25 and a quick ratio of 4.25.
Separately,
Zacks Investment Research
upgraded Eutelsat Communications from a "hold" rating to a "strong-buy" rating and set a $21.00 price target for the company in a report on Wednesday, June 12th. Three investment analysts have rated the stock with a hold rating and four have given a buy rating to the company's stock. The stock presently has a consensus rating of "Buy" and an average target price of $17.83.
Redwood Trust Company Profile
Redwood Trust, Inc, together with its subsidiaries, operates as a specialty finance company in the United States. The company operates through two segments, Investment Portfolio and Residential Mortgage Banking. The Investment Portfolio segment offers a portfolio of investments in residential mortgage-backed securities retained from Sequoia securitizations, as well as issued by third parties and other credit risk-related investments; and invests directly in residential mortgage loans.
Recommended Story: Beige Book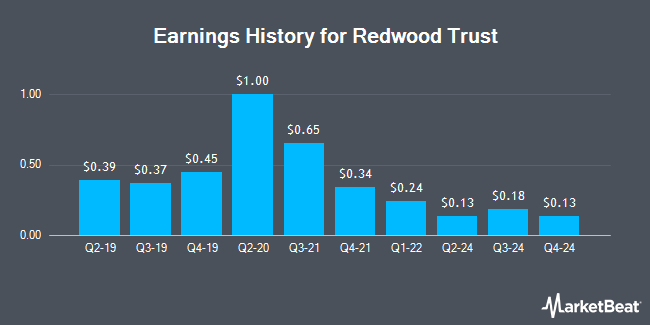 Receive News & Ratings for Redwood Trust Daily - Enter your email address below to receive a concise daily summary of the latest news and analysts' ratings for Redwood Trust and related companies with MarketBeat.com's FREE daily email newsletter.