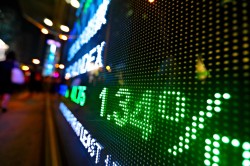 Canada Jetlines Ltd (CVE:JET)'s share price reached a new 52-week low during trading on Thursday . The company traded as low as C$0.36 and last traded at C$0.37, with a volume of 196841 shares traded. The stock had previously closed at C$0.40.
Separately, Fundamental Research cut their price objective on Canada Jetlines from C$2.57 to C$2.04 and set a "top pick" rating on the stock in a report on Thursday, May 9th.
The company has a market cap of $28.59 million and a price-to-earnings ratio of -3.76. The firm has a fifty day simple moving average of C$0.43.
Canada Jetlines (CVE:JET) last issued its earnings results on Wednesday, May 29th. The company reported C($0.03) earnings per share (EPS) for the quarter.
Canada Jetlines Company Profile (CVE:JET)
Canada Jetlines Ltd. operates as an ultra-low cost carrier scheduled airline. The company plans to operate flights across Canada; and provide non-stop services from Canada to the United States, Mexico, and the Caribbean. It also provides services to passengers, such as in-flight food and baggage. The company is headquartered in Vancouver, Canada.
Further Reading: Why does the United States have a lingering trade deficit?
Receive News & Ratings for Canada Jetlines Daily - Enter your email address below to receive a concise daily summary of the latest news and analysts' ratings for Canada Jetlines and related companies with MarketBeat.com's FREE daily email newsletter.