Harvest Capital Credit (NASDAQ:HCAP) issued its earnings results on Friday. The investment management company reported $0.14 EPS for the quarter, missing the Thomson Reuters' consensus estimate of $0.16 by ($0.02), Bloomberg Earnings reports. Harvest Capital Credit had a return on equity of 7.08% and a net margin of 19.75%. The business had revenue of $2.99 million for the quarter, compared to the consensus estimate of $3.50 million.
Shares of NASDAQ HCAP traded down $0.17 during midday trading on Friday, hitting $9.96. 14,841 shares of the company's stock were exchanged, compared to its average volume of 11,377. The company has a quick ratio of 1.72, a current ratio of 1.72 and a debt-to-equity ratio of 0.44. Harvest Capital Credit has a 12 month low of $9.31 and a 12 month high of $11.65. The business has a 50 day moving average of $10.32. The company has a market capitalization of $61.45 million, a price-to-earnings ratio of 10.71 and a beta of 0.67.
Separately, Zacks Investment Research upgraded Harvest Capital Credit from a "sell" rating to a "hold" rating in a research note on Wednesday, July 31st.
A hedge fund recently raised its stake in Harvest Capital Credit stock. Acadian Asset Management LLC boosted its position in Harvest Capital Credit Corp (NASDAQ:HCAP) by 9.7% in the 1st quarter, according to its most recent filing with the Securities and Exchange Commission (SEC). The firm owned 24,530 shares of the investment management company's stock after purchasing an additional 2,169 shares during the quarter. Acadian Asset Management LLC owned about 0.40% of Harvest Capital Credit worth $256,000 at the end of the most recent reporting period. 8.16% of the stock is owned by hedge funds and other institutional investors.
About Harvest Capital Credit
Harvest Capital Credit Corporation is a business development company providing structured credit to small businesses and specializing in leveraged buyouts, add-on acquisitions, recapitalizations, growth financings and debt refinancing investments. It prefers to invest in North America-based companies.
Read More: How to Trade Using Analysts Ratings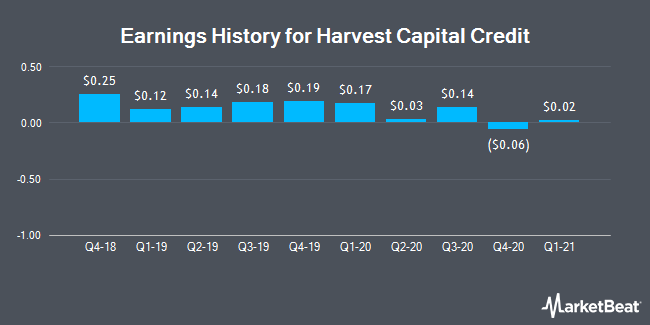 Receive News & Ratings for Harvest Capital Credit Daily - Enter your email address below to receive a concise daily summary of the latest news and analysts' ratings for Harvest Capital Credit and related companies with MarketBeat.com's FREE daily email newsletter.