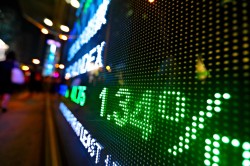 Zion Oil & Gas, Inc. (NASDAQ:ZN) shares saw an uptick in trading volume on Friday . 2,338,688 shares changed hands during trading, an increase of 261% from the previous session's volume of 646,963 shares.The stock last traded at $0.35 and had previously closed at $0.34.
The company has a quick ratio of 1.21, a current ratio of 2.37 and a debt-to-equity ratio of 0.38. The company's 50-day moving average is $0.35.
Zion Oil & Gas (NASDAQ:ZN) last posted its quarterly earnings results on Tuesday, May 14th. The oil and gas producer reported ($0.03) earnings per share (EPS) for the quarter.
An institutional investor recently raised its position in Zion Oil & Gas stock. Geode Capital Management LLC boosted its stake in Zion Oil & Gas, Inc. (NASDAQ:ZN) by 18.5% during the 4th quarter, according to its most recent Form 13F filing with the Securities and Exchange Commission (SEC). The firm owned 647,448 shares of the oil and gas producer's stock after buying an additional 100,863 shares during the period. Geode Capital Management LLC owned 1.00% of Zion Oil & Gas worth $270,000 as of its most recent SEC filing. Hedge funds and other institutional investors own 10.68% of the company's stock.
Zion Oil & Gas Company Profile (NASDAQ:ZN)
Zion Oil & Gas, Inc operates as an oil and gas exploration company in Israel. It holds a petroleum exploration license onshore Israel, the Megiddo-Jezreel License that covers an area of approximately 99,000 acres. The company was founded in 2000 and is based in Dallas, Texas.
Recommended Story: Straddles
Receive News & Ratings for Zion Oil & Gas Daily - Enter your email address below to receive a concise daily summary of the latest news and analysts' ratings for Zion Oil & Gas and related companies with MarketBeat.com's FREE daily email newsletter.