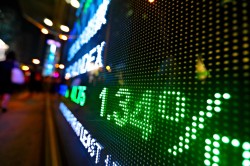 ProShares UltraShort Dow30 (NYSEARCA:DXD) shares rose 6.1% during trading on Wednesday . The stock traded as high as $28.83 and last traded at $28.80, approximately 1,993,037 shares changed hands during trading. An increase of 117% from the average daily volume of 918,257 shares. The stock had previously closed at $27.15.
The stock has a 50 day simple moving average of $26.27.
An institutional investor recently raised its position in ProShares UltraShort Dow30 stock. Morgan Stanley raised its holdings in shares of ProShares UltraShort Dow30 (NYSEARCA:DXD) by 30.1% in the 2nd quarter, according to the company in its most recent 13F filing with the SEC. The institutional investor owned 9,246 shares of the exchange traded fund's stock after acquiring an additional 2,137 shares during the quarter. Morgan Stanley owned approximately 0.17% of ProShares UltraShort Dow30 worth $246,000 as of its most recent filing with the SEC.
ProShares UltraShort Dow30 Company Profile
(
NYSEARCA:DXD
)
ProShares UltraShort Dow30 (the Fund), formerly UltraShort Dow30 ProShares, seeks daily investment results that correspond to twice (200%) the inverse (opposite) of the daily performance of the Dow Jones Industrial Average (DJIA). The DJIA is a price-weighted index maintained by editors of The Wall Street Journal.
Further Reading: Cryptocurrencies
Receive News & Ratings for ProShares UltraShort Dow30 Daily - Enter your email address below to receive a concise daily summary of the latest news and analysts' ratings for ProShares UltraShort Dow30 and related companies with MarketBeat.com's FREE daily email newsletter.