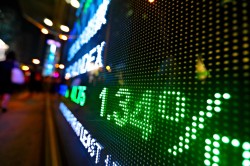 Spirit MTA REIT (NYSE:SMTA) announced a dividend on Saturday, October 5th, Fidelity reports. Investors of record on Monday, October 14th will be given a dividend of 8.00 per share on Wednesday, October 23rd. The ex-dividend date is Thursday, October 10th.
SMTA stock opened at $8.66 on Tuesday. Spirit MTA REIT has a 12-month low of $6.36 and a 12-month high of $11.59. The business's 50-day moving average is $8.48 and its 200 day moving average is $7.87.
About Spirit MTA REIT
Spirit MTA REIT (NYSE: SMTA) is a net-lease REIT headquartered in Dallas, Texas. SMTA owns one of the largest, most diversified and seasoned commercial real estate backed master funding vehicles. SMTA is managed by Spirit Realty, L.P., a wholly-owned subsidiary of Spirit (NYSE: SRC), one of the largest publicly traded triple net-lease REITs.
Read More: Google Finance Portfolio
Receive News & Ratings for Spirit MTA REIT Daily - Enter your email address below to receive a concise daily summary of the latest news and analysts' ratings for Spirit MTA REIT and related companies with MarketBeat.com's FREE daily email newsletter.