Corenergy Infrastructure Trust Inc (NYSE:CORR) declared a quarterly dividend on Wednesday, October 23rd, Zacks reports. Shareholders of record on Friday, November 15th will be paid a dividend of 0.75 per share by the asset manager on Friday, November 29th. This represents a $3.00 annualized dividend and a yield of 6.56%. The ex-dividend date is Thursday, November 14th.
NYSE:CORR traded up $0.48 on Tuesday, hitting $45.70. The stock had a trading volume of 593 shares, compared to its average volume of 101,065. The business's fifty day moving average is $47.07 and its 200 day moving average is $43.01. The company has a market cap of $611.83 million, a PE ratio of 12.37 and a beta of 1.37. The company has a quick ratio of 14.81, a current ratio of 14.81 and a debt-to-equity ratio of 0.45. Corenergy Infrastructure Trust has a 52 week low of $32.52 and a 52 week high of $49.75.
Separately, Zacks Investment Research lowered Corenergy Infrastructure Trust from a "hold" rating to a "sell" rating in a report on Monday, November 4th.
About Corenergy Infrastructure Trust
CorEnergy Infrastructure Trust, Inc (NYSE: CORR, CORRPrA), is a real estate investment trust (REIT) that owns critical energy assets, such as pipelines, storage terminals, and transmission and distribution assets. We receive long-term contracted revenue from operators of our assets, primarily under triple-net participating leases.
Featured Story: What are retained earnings?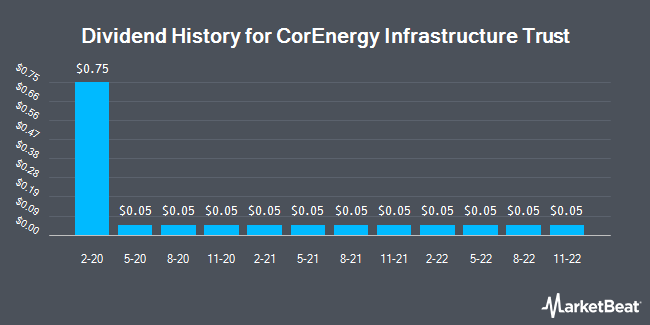 Receive News & Ratings for Corenergy Infrastructure Trust Daily - Enter your email address below to receive a concise daily summary of the latest news and analysts' ratings for Corenergy Infrastructure Trust and related companies with MarketBeat.com's FREE daily email newsletter.