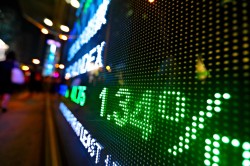 Polarityte (NASDAQ:PTE) announced its earnings results on Tuesday. The company reported ($0.87) earnings per share for the quarter, beating the consensus estimate of ($1.01) by $0.14, RTT News reports. The business had revenue of $1.40 million for the quarter, compared to analyst estimates of $1.41 million. During the same quarter in the prior year, the business earned ($0.86) earnings per share.
NASDAQ PTE traded up $0.20 during trading hours on Wednesday, reaching $3.11. The company's stock had a trading volume of 10,457 shares, compared to its average volume of 335,734. The company has a current ratio of 6.72, a quick ratio of 6.68 and a debt-to-equity ratio of 0.06. The business has a 50-day simple moving average of $3.04 and a 200 day simple moving average of $5.02. Polarityte has a 52 week low of $2.10 and a 52 week high of $18.17. The stock has a market cap of $89.24 million, a PE ratio of -0.64 and a beta of 1.37.
Several analysts have recently weighed in on PTE shares. Northland Securities set a $20.00 target price on Polarityte and gave the company a "buy" rating in a research note on Friday, October 11th. Oppenheimer set a $14.00 price target on shares of Polarityte and gave the stock a "buy" rating in a research report on Wednesday, August 21st. Zacks Investment Research cut shares of Polarityte from a "buy" rating to a "hold" rating in a research report on Friday, October 18th. Finally, Cantor Fitzgerald reduced their price target on shares of Polarityte from $50.00 to $13.00 and set an "overweight" rating on the stock in a research report on Monday. One analyst has rated the stock with a sell rating, one has issued a hold rating and seven have given a buy rating to the stock. The company currently has a consensus rating of "Buy" and an average target price of $14.75.
Polarityte Company Profile
PolarityTE, Inc, a biotechnology and regenerative biomaterials company, focuses on discovering, designing, and developing a range of regenerative tissue products and biomaterials for the fields of medicine, biomedical engineering, and material sciences in the United States. The company operates in two segments, Regenerative Medicine and Contract Services.
Featured Story: What does a bar chart display?
Receive News & Ratings for Polarityte Daily - Enter your email address below to receive a concise daily summary of the latest news and analysts' ratings for Polarityte and related companies with MarketBeat.com's FREE daily email newsletter.