Atkore International Group (NYSE:ATKR) is scheduled to be issuing its quarterly earnings data before the market opens on Friday, November 22nd. Parties interested in registering for the company's conference call can do so using this link.
Atkore International Group stock opened at $36.59 on Friday. The firm has a market cap of $1.77 billion, a price-to-earnings ratio of 14.75 and a beta of 1.78. Atkore International Group has a 52 week low of $17.47 and a 52 week high of $38.17. The business's 50-day moving average price is $33.17 and its 200 day moving average price is $28.24. The company has a quick ratio of 1.73, a current ratio of 2.57 and a debt-to-equity ratio of 4.37.
Separately, Zacks Investment Research raised Atkore International Group from a "hold" rating to a "buy" rating and set a $34.00 target price on the stock in a report on Tuesday, October 8th.
In related news, insider Mark F. Lamps sold 2,005 shares of the firm's stock in a transaction dated Thursday, November 7th. The stock was sold at an average price of $37.51, for a total transaction of $75,207.55. Following the sale, the insider now directly owns 14,025 shares of the company's stock, valued at $526,077.75. The transaction was disclosed in a filing with the SEC, which can be accessed through
this hyperlink
. 3.03% of the stock is owned by company insiders.
About Atkore International Group
Atkore International Group Inc manufactures and distributes electrical raceway products, and mechanical products and solutions (MP&S) in the United States and internationally. The company offers electrical raceway products, including electrical conduits and fittings, armored cables and fittings, and cable trays and mounting systems and fittings.
See Also: What is the Dividend Aristocrat Index?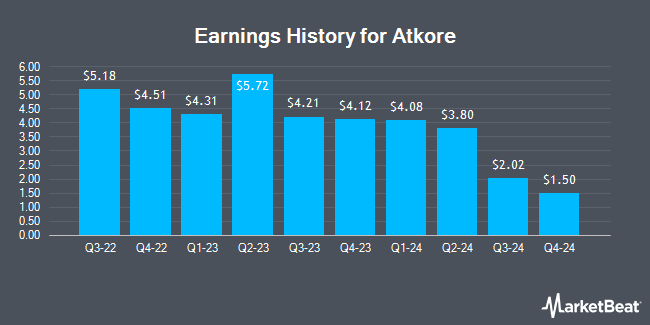 Receive News & Ratings for Atkore International Group Daily - Enter your email address below to receive a concise daily summary of the latest news and analysts' ratings for Atkore International Group and related companies with MarketBeat.com's FREE daily email newsletter.