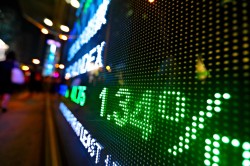 Castellum (OTCMKTS:CWQXF) was upgraded by analysts at Barclays from an "equal weight" rating to an "overweight" rating in a research report issued on Monday, The Fly reports.
Shares of Castellum stock opened at $21.30 on Monday. Castellum has a one year low of $18.50 and a one year high of $21.30. The firm has a fifty day moving average of $21.30 and a two-hundred day moving average of $19.93.
Castellum Company Profile
Castellum is one of the major listed real estate companies in Sweden. The fair value of the real estate portfolio amounts to approx. SEK 81 billion and comprises commercial properties for office, retail, warehouse and logistics with a total lettable area of approx. 4.4 million sq. m. The real estate portfolio is owned and managed under the Castellum brand through a decentralized organization with strong and clear local presence in 20 cities from Copenhagen in the south to Sundsvall in the north.
See Also: What is a Candlestick Chart?

Receive News & Ratings for Castellum Daily - Enter your email address below to receive a concise daily summary of the latest news and analysts' ratings for Castellum and related companies with MarketBeat.com's FREE daily email newsletter.