Guess?, Inc. (NYSE:GES) announced a quarterly dividend on Tuesday, November 26th, RTT News reports. Investors of record on Wednesday, December 11th will be given a dividend of 0.1125 per share on Thursday, January 2nd. This represents a $0.45 dividend on an annualized basis and a yield of 2.36%.
NYSE:GES traded up $0.64 during midday trading on Tuesday, reaching $19.08. 3,937,526 shares of the stock traded hands, compared to its average volume of 1,623,452. The company has a fifty day moving average of $17.52 and a 200 day moving average of $16.80. Guess? has a 12 month low of $13.34 and a 12 month high of $24.25. The company has a debt-to-equity ratio of 1.79, a quick ratio of 0.72 and a current ratio of 1.44. The stock has a market capitalization of $1.18 billion, a P/E ratio of 19.47, a PEG ratio of 0.76 and a beta of 0.40.
Guess? (NYSE:GES) last posted its quarterly earnings results on Wednesday, August 28th. The company reported $0.38 EPS for the quarter, beating the Zacks' consensus estimate of $0.29 by $0.09. Guess? had a net margin of 0.52% and a return on equity of 10.85%. The company had revenue of $683.22 million during the quarter, compared to analyst estimates of $673.78 million. During the same period in the prior year, the business posted $0.36 EPS. The firm's revenue was up 5.8% compared to the same quarter last year. On average, analysts predict that Guess? will post 1.36 EPS for the current fiscal year.
A number of equities research analysts recently commented on the stock. Cfra set a $16.00 price target on shares of Guess? and gave the company a "hold" rating in a report on Thursday, August 29th.
ValuEngine
upgraded shares of Guess? from a "sell" rating to a "hold" rating in a report on Friday, August 30th.
Zacks Investment Research
reiterated a "positive" rating on shares of Guess? in a report on Wednesday, October 16th. Finally, B. Riley upped their price target on shares of Guess? from $24.00 to $25.00 and gave the company a "buy" rating in a report on Thursday, August 29th. Three analysts have rated the stock with a hold rating and three have given a buy rating to the stock. The company has a consensus rating of "Buy" and a consensus target price of $21.20.
Guess? Company Profile
Guess?, Inc designs, markets, distributes, and licenses lifestyle collections of apparel and accessories for men, women, and children. It operates through five segments: Americas Retail, Americas Wholesale, Europe, Asia, and Licensing. The company's clothing collection includes jeans, pants, skirts, dresses, shorts, blouses, shirts, jackets, knitwear, and intimate apparel.
Read More: Death Cross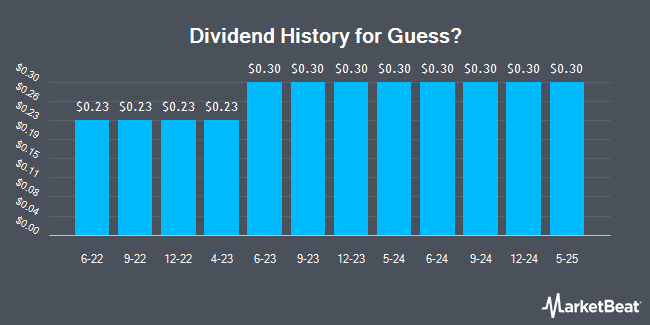 Receive News & Ratings for Guess? Daily - Enter your email address below to receive a concise daily summary of the latest news and analysts' ratings for Guess? and related companies with MarketBeat.com's FREE daily email newsletter.