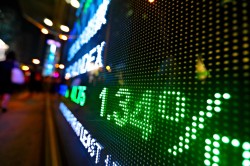 Cake Box (LON:CBOX) issued its quarterly earnings data on Monday. The company reported GBX 3.67 ($0.05) earnings per share for the quarter, Digital Look Earnings reports.
LON CBOX traded up GBX 4.50 ($0.06) during trading hours on Wednesday, hitting GBX 165 ($2.16). 10,224 shares of the company were exchanged. The stock has a market capitalization of $65.10 million and a PE ratio of 22.00. The stock has a 50-day moving average price of GBX 156.25. Cake Box has a 52 week low of GBX 140 ($1.83) and a 52 week high of GBX 192 ($2.51). The company has a current ratio of 2.48, a quick ratio of 1.85 and a debt-to-equity ratio of 32.46.
The business also recently disclosed a dividend, which will be paid on Friday, December 20th. Shareholders of record on Thursday, December 5th will be paid a dividend of GBX 1.60 ($0.02) per share. The ex-dividend date is Thursday, December 5th. This represents a yield of 1.04%. Cake Box's payout ratio is currently 0.67%.
Separately, Shore Capital reissued a "house stock" rating on shares of Cake Box in a research note on Monday.
In other Cake Box news, insider Pardip Kumar Dass bought 150,000 shares of the business's stock in a transaction dated Monday, November 25th. The shares were purchased at an average price of GBX 150 ($1.96) per share, with a total value of £225,000 ($294,002.35).
Cake Box Company Profile
Cake Box Holdings plc, through its subsidiaries, engages in the retail of confectionery and property holding activities in the United States. The company was incorporated in 2013 and is based in Enfield, the United Kingdom.
Featured Article: How to Invest in Stocks with Increasing Dividends
Receive News & Ratings for Cake Box Daily - Enter your email address below to receive a concise daily summary of the latest news and analysts' ratings for Cake Box and related companies with MarketBeat.com's FREE daily email newsletter.