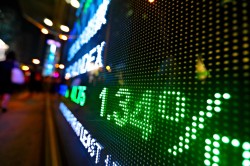 BRAMBLES LTD/S (OTCMKTS:BXBLY) was downgraded by equities researchers at ValuEngine from a "hold" rating to a "sell" rating in a research note issued on Tuesday, ValuEngine reports.
Separately, Goldman Sachs Group upgraded shares of BRAMBLES LTD/S from a "neutral" rating to a "buy" rating in a research report on Monday, October 21st.
BXBLY opened at $16.97 on Tuesday. BRAMBLES LTD/S has a fifty-two week low of $13.61 and a fifty-two week high of $18.39. The company's 50 day moving average price is $16.57 and its two-hundred day moving average price is $16.70.
About BRAMBLES LTD/S
Brambles Limited provides supply-chain logistics solutions based on the provision of reusable pallets, crates, and containers for shared use by various participants in the supply chain. The company operates through CHEP North America and Latin America; CHEP Europe, Middle East, Africa and India; CHEP Australia, New Zealand and Asia, excluding India; and IFCO segments.
Further Reading: Understanding the two types of arbitrage

To view ValuEngine's full report, visit ValuEngine's official website.
Receive News & Ratings for BRAMBLES LTD/S Daily - Enter your email address below to receive a concise daily summary of the latest news and analysts' ratings for BRAMBLES LTD/S and related companies with MarketBeat.com's FREE daily email newsletter.