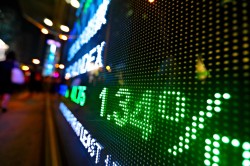 Leon's Furniture Ltd. (TSE:LNF) declared a quarterly dividend on Wednesday, November 13th, Zacks reports. Stockholders of record on Friday, December 6th will be given a dividend of 0.14 per share on Monday, January 6th. This represents a $0.56 annualized dividend and a dividend yield of 3.50%. The ex-dividend date is Thursday, December 5th.
Shares of TSE LNF opened at C$15.99 on Tuesday. The stock has a market cap of $1.25 billion and a PE ratio of 12.35. The company has a current ratio of 1.24, a quick ratio of 0.53 and a debt-to-equity ratio of 65.72. Leon's Furniture has a 12-month low of C$14.01 and a 12-month high of C$16.48. The company has a 50-day moving average of C$15.67 and a 200 day moving average of C$15.50.
LNF has been the subject of a number of recent research reports. BMO Capital Markets raised their target price on Leon's Furniture from C$17.00 to C$18.00 in a research note on Friday, August 16th. CIBC boosted their price target on shares of Leon's Furniture from C$17.00 to C$18.00 in a research report on Friday, August 16th. Finally, Desjardins upped their price objective on shares of Leon's Furniture from C$20.00 to C$21.00 in a report on Thursday, August 15th.
About Leon's Furniture
Leon's Furniture Limited is the largest retailer of furniture, mattresses, appliances and electronics in Canada. Our retail banners include: Leon's; The Brick; The Brick Mattress Store; and The Brick Outlet. Finally,
with the Midnorthern Appliance banner alongside the Appliance Canada banner, we are also the country's largest commercial retailer of appliances to builders, developers, hotels and property management companies.
Recommended Story: What is the S&P 500 Index?
Receive News & Ratings for Leon's Furniture Daily - Enter your email address below to receive a concise daily summary of the latest news and analysts' ratings for Leon's Furniture and related companies with MarketBeat.com's FREE daily email newsletter.