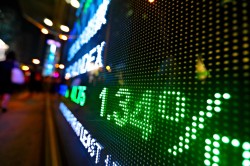 BK Technologies Inc (NYSEAMERICAN:BKTI) shot up 3.3% during mid-day trading on Wednesday . The stock traded as high as $3.15 and last traded at $3.15, 12,412 shares traded hands during mid-day trading. An increase of 113% from the average session volume of 5,833 shares. The stock had previously closed at $3.05.
An institutional investor recently raised its position in BK Technologies stock. BlackRock Inc. boosted its holdings in BK Technologies Inc (NYSEAMERICAN:BKTI) by 13.4% during the 2nd quarter, according to its most recent disclosure with the Securities and Exchange Commission (SEC). The fund owned 41,152 shares of the company's stock after buying an additional 4,860 shares during the quarter. BlackRock Inc. owned approximately 0.32% of BK Technologies worth $177,000 at the end of the most recent quarter.
About BK Technologies (NYSEAMERICAN:BKTI)
BK Technologies Corporation designs, manufactures, and markets wireless communications products in the United States and internationally. The company offers two-way land mobile radios, repeaters, base stations, and related components and subsystems under BK Technologies, BK Radio, and RELM brand names.
Recommended Story: What Does a Sell-Side Analyst Rating Mean?
Receive News & Ratings for BK Technologies Daily - Enter your email address below to receive a concise daily summary of the latest news and analysts' ratings for BK Technologies and related companies with MarketBeat.com's FREE daily email newsletter.