Ulta Beauty (NASDAQ:ULTA) issued an update on its FY20 earnings guidance on Thursday morning. The company provided earnings per share guidance of $11.93-12.03 for the period, compared to the Thomson Reuters consensus earnings per share estimate of $11.92. The company issued revenue guidance of +10% to $7.39 billion, compared to the consensus revenue estimate of $7.41 billion.
ULTA traded up $26.18 during trading on Friday, hitting $262.20. 6,738,450 shares of the company traded hands, compared to its average volume of 1,104,732. The company has a market cap of $15.43 billion, a PE ratio of 24.17, a P/E/G ratio of 1.18 and a beta of 1.11. The stock's 50-day simple moving average is $238.84 and its two-hundred day simple moving average is $292.43. Ulta Beauty has a 1 year low of $222.00 and a 1 year high of $368.83. The company has a current ratio of 1.80, a quick ratio of 0.57 and a debt-to-equity ratio of 0.92.
Ulta Beauty (NASDAQ:ULTA) last announced its quarterly earnings results on Thursday, December 5th. The specialty retailer reported $2.25 EPS for the quarter, topping the consensus estimate of $2.13 by $0.12. Ulta Beauty had a net margin of 9.86% and a return on equity of 37.04%. The business had revenue of $1.68 billion for the quarter, compared to analysts' expectations of $1.69 billion. During the same quarter in the previous year, the company earned $2.18 EPS. The business's quarterly revenue was up 7.9% compared to the same quarter last year. Equities analysts expect that Ulta Beauty will post 11.76 EPS for the current year.
Several brokerages recently weighed in on ULTA. Deutsche Bank started coverage on shares of Ulta Beauty in a research report on Tuesday. They issued a buy rating and a $285.00 price target on the stock. Robert W. Baird set a $315.00 price objective on shares of Ulta Beauty and gave the company a buy rating in a research report on Tuesday, September 17th. Goldman Sachs Group initiated coverage on shares of Ulta Beauty in a research report on Thursday, October 3rd. They set a neutral rating and a $276.00 price objective for the company. William Blair reissued a buy rating on shares of Ulta Beauty in a research note on Friday, November 22nd. Finally, Citigroup downgraded shares of Ulta Beauty from a buy rating to a neutral rating and reduced their target price for the stock from $390.00 to $300.00 in a report on Friday, August 30th. Two investment analysts have rated the stock with a sell rating, eleven have issued a hold rating and thirteen have issued a buy rating to the stock. Ulta Beauty presently has a consensus rating of Hold and an average target price of $286.57.
In other news, CEO Mary N. Dillon purchased 1,300 shares of the company's stock in a transaction that occurred on Thursday, September 26th. The stock was purchased at an average cost of $237.17 per share, with a total value of $308,321.00. Following the purchase, the chief executive officer now owns 79,256 shares in the company, valued at $18,797,145.52. The purchase was disclosed in a document filed with the Securities & Exchange Commission, which is available through the SEC website. Also, Director Charles Heilbronn purchased 70,009 shares of the business's stock in a transaction that occurred on Monday, September 30th. The shares were purchased at an average price of $248.66 per share, for a total transaction of $17,408,437.94. Following the completion of the acquisition, the director now directly owns 60,368 shares in the company, valued at approximately $15,011,106.88. The disclosure for this purchase can be found here. In the last three months, insiders bought 186,567 shares of company stock worth $44,964,903. Insiders own 4.20% of the company's stock.
Ulta Beauty Company Profile
Ulta Beauty, Inc operates as a beauty retailer in the United States. The company's stores offer cosmetics, fragrances, skincare and haircare products, bath and body products, and salon styling tools; salon services, including hair, skin, makeup, and brow services; and others, including nail products and accessories.
Further Reading: What does relative strength index mean?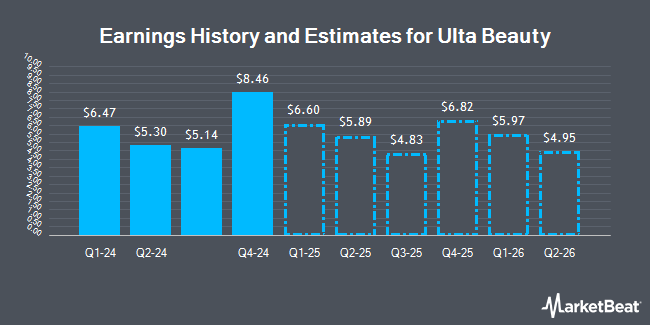 Receive News & Ratings for Ulta Beauty Daily - Enter your email address below to receive a concise daily summary of the latest news and analysts' ratings for Ulta Beauty and related companies with MarketBeat.com's FREE daily email newsletter.