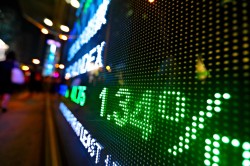 CIP Merchant Capital Ltd (LON:CIP) shares dropped 3.7% during trading on Monday . The stock traded as low as GBX 51.15 ($0.67) and last traded at GBX 52 ($0.68), approximately 17,664 shares changed hands during mid-day trading. The stock had previously closed at GBX 54 ($0.71).
The firm has a market cap of $28.60 million and a price-to-earnings ratio of -8.67. The stock's 50 day moving average is GBX 57.82.
In related news, insider Carlo Sgarbi bought 730,000 shares of the company's stock in a transaction on Thursday, October 3rd. The shares were purchased at an average price of GBX 60 ($0.79) per share, for a total transaction of £438,000 ($576,164.17).
Recommended Story: How to execute a trade ex-dividend strategy?
Receive News & Ratings for CIP Merchant Capital Daily - Enter your email address below to receive a concise daily summary of the latest news and analysts' ratings for CIP Merchant Capital and related companies with MarketBeat.com's FREE daily email newsletter.