Novus Therapeutics (NASDAQ:NVUS) announced its quarterly earnings data on Tuesday. The biopharmaceutical company reported ($0.32) earnings per share for the quarter, missing the Thomson Reuters' consensus estimate of ($0.26) by ($0.06), Bloomberg Earnings reports.
Shares of NASDAQ NVUS opened at $0.26 on Friday. The stock's 50 day moving average price is $0.49 and its two-hundred day moving average price is $0.60. Novus Therapeutics has a 52-week low of $0.25 and a 52-week high of $4.51. The company has a debt-to-equity ratio of 0.02, a quick ratio of 7.40 and a current ratio of 7.54.
Separately, HC Wainwright began coverage on shares of Novus Therapeutics in a research note on Wednesday, November 27th. They issued a "buy" rating and a $2.00 target price on the stock.
Novus Therapeutics Company Profile
Novus Therapeutics, Inc, a pharmaceutical company, focuses on developing products for patients with disorders of ear, nose, and throat. Its lead product is (OP-02), a surfactant-based combination drug product for patients at risk for, or with, otitis media (OM) (middle ear inflammation with or without infection).
Featured Article: How to Use a Moving Average for Trading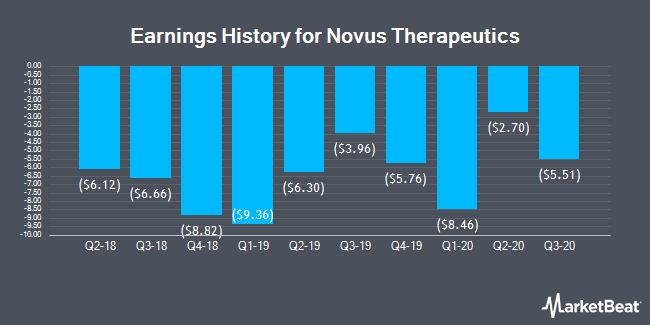 Receive News & Ratings for Novus Therapeutics Daily - Enter your email address below to receive a concise daily summary of the latest news and analysts' ratings for Novus Therapeutics and related companies with MarketBeat.com's FREE daily email newsletter.