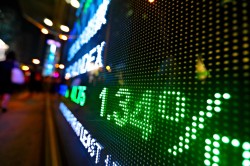 Sabien Technology Group (LON:SNT) released its quarterly earnings results on Friday. The company reported GBX (0.05) ($0.00) EPS for the quarter, Digital Look Earnings reports.
SNT remained flat at $GBX 0.19 ($0.00) on Friday. The company has a market cap of $2.89 million and a P/E ratio of -1.80. Sabien Technology Group has a 1 year low of GBX 0.07 ($0.00) and a 1 year high of GBX 0.33 ($0.00). The business's 50 day moving average price is GBX 0.19 and its 200 day moving average price is GBX 0.18.
Sabien Technology Group Company Profile
Sabien Technology Group Plc designs, manufactures, and sells boiler energy efficiency technologies in the United Kingdom and internationally. Its products include M1G, a direct fired hot water heater control technology to reduce the energy costs and carbon emissions; and M2G, a boiler load optimization controller that prevents boiler dry cycling.
See Also: SEC Filing
Receive News & Ratings for Sabien Technology Group Daily - Enter your email address below to receive a concise daily summary of the latest news and analysts' ratings for Sabien Technology Group and related companies with MarketBeat.com's FREE daily email newsletter.