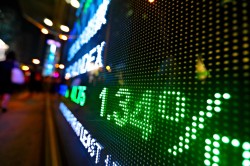 OrbitalEnergyGroupInc . (NYSE:OEG) issued its earnings results on Wednesday. The company reported ($0.24) earnings per share for the quarter, missing the Thomson Reuters' consensus estimate of ($0.11) by ($0.13), Fidelity Earnings reports. The firm had revenue of $5.69 million during the quarter, compared to analyst estimates of $5.20 million.
OEG stock opened at $0.72 on Friday. OrbitalEnergyGroupInc . has a one year low of $0.48 and a one year high of $1.32.
Separately, Zacks Investment Research raised shares of OrbitalEnergyGroupInc . from a "hold" rating to a "buy" rating and set a $0.75 price target on the stock in a research report on Saturday.
About OrbitalEnergyGroupInc .
CUI Global, Inc, through its subsidiaries, engages in the design, installation, and the commissioning of industrial gas sampling, measurement, and delivery systems in the United States and United Kingdom. It manufactures and delivers a range of technologies, including environmental monitoring, gas metering, process control, telemetry, gas sampling, and bio methane monitoring to the gas utilities, power generation, emissions, manufacturing, and automotive industries.
Featured Article: What factors cause inflation to rise?
Receive News & Ratings for OrbitalEnergyGroupInc . Daily - Enter your email address below to receive a concise daily summary of the latest news and analysts' ratings for OrbitalEnergyGroupInc . and related companies with MarketBeat.com's FREE daily email newsletter.