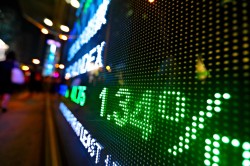 PlusTherapeuticsInc . (NASDAQ:PSTV) CEO Marc H. Hedrick acquired 5,000 shares of the company's stock in a transaction that occurred on Monday, June 22nd. The shares were bought at an average price of $2.10 per share, for a total transaction of $10,500.00. Following the completion of the acquisition, the chief executive officer now owns 5,167 shares of the company's stock, valued at $10,850.70. The purchase was disclosed in a legal filing with the SEC, which is available at this hyperlink.
Shares of PSTV stock traded down $0.09 on Tuesday, hitting $2.15. 112,190 shares of the stock were exchanged, compared to its average volume of 328,449. The company has a current ratio of 1.18, a quick ratio of 1.17 and a debt-to-equity ratio of 7.34. The firm has a market capitalization of $8.84 million, a P/E ratio of -0.10 and a beta of 0.42. PlusTherapeuticsInc . has a fifty-two week low of $0.93 and a fifty-two week high of $22.89. The business has a 50-day moving average of $1.83 and a 200 day moving average of $1.96.
PlusTherapeuticsInc . (NASDAQ:PSTV) last issued its quarterly earnings results on Thursday, May 14th. The company reported ($0.28) EPS for the quarter, topping the consensus estimate of ($0.75) by $0.47. The firm had revenue of $0.12 million for the quarter. PlusTherapeuticsInc . had a negative net margin of 138.13% and a negative return on equity of 1,037.22%.
Large investors have recently modified their holdings of the stock. Renaissance Technologies LLC raised its stake in PlusTherapeuticsInc . by 146.6% in the fourth quarter. Renaissance Technologies LLC now owns 85,634 shares of the company's stock valued at $206,000 after buying an additional 50,903 shares during the period. Bank of New York Mellon Corp bought a new position in shares of PlusTherapeuticsInc . in the fourth quarter valued at about $69,000. Finally, Oxford Asset Management LLP bought a new stake in shares of PlusTherapeuticsInc . during the 4th quarter worth about $50,000. Institutional investors and hedge funds own 6.26% of the company's stock.
About PlusTherapeuticsInc .
Plus Therapeutics, Inc, a clinical-stage pharmaceutical company, engages in developing treatments for cancer and other diseases in the United States. The company's lead product candidate in pipeline is DocePLUS, an albumin-stabilized PEGylated liposomal formulation of docetaxel for the treatment of small cell lung cancer.
Featured Story: Stochastic Momentum Index (SMI)
Receive News & Ratings for PlusTherapeuticsInc . Daily - Enter your email address below to receive a concise daily summary of the latest news and analysts' ratings for PlusTherapeuticsInc . and related companies with MarketBeat.com's FREE daily email newsletter.