Seanergy Maritime (NASDAQ:SHIP) posted its earnings results on Thursday. The shipping company reported ($0.31) earnings per share for the quarter, hitting the Zacks' consensus estimate of ($0.31), MarketWatch Earnings reports. Seanergy Maritime had a negative net margin of 13.60% and a negative return on equity of 41.71%. The company had revenue of $13.34 million for the quarter, compared to analyst estimates of $16.47 million.
Shares of SHIP stock opened at $0.17 on Friday. Seanergy Maritime has a 52-week low of $0.12 and a 52-week high of $0.90. The company has a quick ratio of 0.08, a current ratio of 0.09 and a debt-to-equity ratio of 0.41. The company has a 50-day simple moving average of $0.16 and a two-hundred day simple moving average of $0.28.
A number of equities research analysts recently weighed in on SHIP shares. Zacks Investment Research lowered shares of Seanergy Maritime from a "hold" rating to a "strong sell" rating in a report on Tuesday, June 23rd. ValuEngine raised shares of Seanergy Maritime from a "hold" rating to a "buy" rating in a research report on Thursday, April 2nd. Finally, Maxim Group reaffirmed a "buy" rating and issued a $0.30 price objective on shares of Seanergy Maritime in a research report on Saturday.
About Seanergy Maritime
Seanergy Maritime Holdings Corp., an international shipping company, engages in the seaborne transportation of drybulk commodities worldwide. As of April 4, 2019, it owned a fleet of 10 Capesizes with a cargo-carrying capacity of approximately 1,748,581 deadweight tons and an average fleet age of 10 years.
Read More: What is the operating income formula?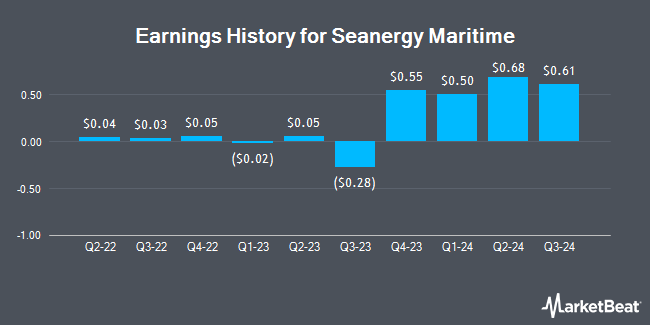 Receive News & Ratings for Seanergy Maritime Daily - Enter your email address below to receive a concise daily summary of the latest news and analysts' ratings for Seanergy Maritime and related companies with MarketBeat.com's FREE daily email newsletter.