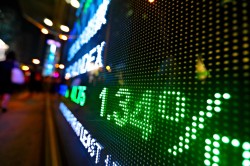 PYC Therapeutics Limited (ASX:PYC) insider Alan Tribe bought 600,000 shares of the business's stock in a transaction that occurred on Wednesday, February 17th. The stock was purchased at an average cost of A$0.14 ($0.10) per share, for a total transaction of A$81,000.00 ($57,857.14).
The company has a debt-to-equity ratio of 2.64, a current ratio of 36.23 and a quick ratio of 36.15.
About PYC Therapeutics
PYC Therapeutics Limited provides drug discovery services utilizing peptide libraries and proprietary screening capabilities in Australia. The company provides next generation delivery platform for cell-penetrating peptides (CPPs), a small biological molecule. The company's proprietary peptide libraries contain fragments from diverse and evolutionarily distinct microbial genomes – organisms which known as cell-penetrating properties.
Featured Story: What are benefits of a growth and income fund?
Receive News & Ratings for PYC Therapeutics Daily - Enter your email address below to receive a concise daily summary of the latest news and analysts' ratings for PYC Therapeutics and related companies with MarketBeat.com's FREE daily email newsletter.