Penns Woods Bancorp, Inc. (NASDAQ:PWOD – Get Rating) declared a quarterly dividend on Tuesday, May 23rd, Zacks reports. Stockholders of record on Tuesday, June 6th will be paid a dividend of 0.32 per share by the financial services provider on Tuesday, June 20th. This represents a $1.28 dividend on an annualized basis and a dividend yield of 5.05%. The ex-dividend date is Monday, June 5th.
Penns Woods Bancorp has increased its dividend by an average of 0.5% annually over the last three years.
Penns Woods Bancorp Stock Up 2.5 %
Shares of PWOD stock opened at $25.33 on Thursday. Penns Woods Bancorp has a 12 month low of $21.50 and a 12 month high of $28.00. The firm has a market cap of $178.83 million, a PE ratio of 9.67 and a beta of 0.42. The stock has a 50 day moving average of $23.14 and a 200-day moving average of $25.26. The company has a quick ratio of 1.01, a current ratio of 1.01 and a debt-to-equity ratio of 0.76.
Analyst Ratings Changes
Separately,
StockNews.com
initiated coverage on Penns Woods Bancorp in a research report on Thursday, May 18th. They set a "hold" rating on the stock.
Insider Activity
In other news, Director Charles E. Kranich acquired 1,800 shares of the stock in a transaction dated Thursday, May 4th. The shares were acquired at an average cost of $22.53 per share, for a total transaction of $40,554.00. Following the completion of the transaction, the director now owns 30,073 shares in the company, valued at approximately $677,544.69. The transaction was disclosed in a filing with the Securities & Exchange Commission, which is accessible through this hyperlink. Over the last ninety days, insiders have bought 3,285 shares of company stock worth $75,237. Company insiders own 3.98% of the company's stock.
Institutional Trading of Penns Woods Bancorp
A number of institutional investors and hedge funds have recently modified their holdings of PWOD. UBS Group AG grew its position in Penns Woods Bancorp by 549.4% in the first quarter. UBS Group AG now owns 1,500 shares of the financial services provider's stock valued at $35,000 after acquiring an additional 1,269 shares during the period. Citigroup Inc. bought a new stake in Penns Woods Bancorp in the fourth quarter valued at $89,000. Captrust Financial Advisors bought a new stake in Penns Woods Bancorp in the second quarter valued at $105,000. Man Group plc bought a new stake in Penns Woods Bancorp in the fourth quarter valued at $209,000. Finally, Jane Street Group LLC bought a new stake in Penns Woods Bancorp in the first quarter valued at $239,000. 18.58% of the stock is currently owned by institutional investors.
About Penns Woods Bancorp
Penns Woods Bancorp, Inc engages in the business of commercial and retail banking. Its services include acceptance of time, savings, and demand deposits, the funding of commercial, consumer, and mortgage loans, and safe deposit services. The company was founded on January 7, 1983 and is headquartered in Williamsport, PA.
Further Reading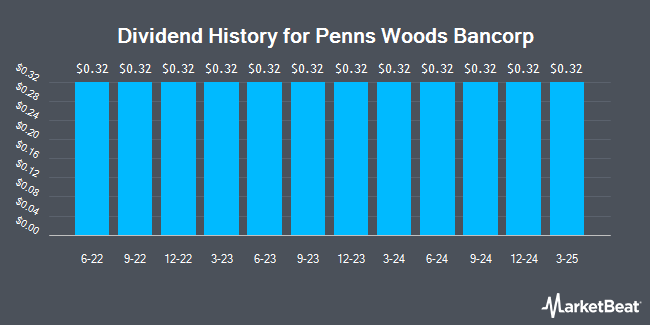 Receive News & Ratings for Penns Woods Bancorp Daily - Enter your email address below to receive a concise daily summary of the latest news and analysts' ratings for Penns Woods Bancorp and related companies with MarketBeat.com's FREE daily email newsletter.