Kaspien (NASDAQ:KSPN – Get Free Report) issued its earnings results on Tuesday. The company reported ($0.23) EPS for the quarter, beating the consensus estimate of ($0.84) by $0.61, MarketWatch Earnings reports. Kaspien had a negative return on equity of 1,013.63% and a negative net margin of 12.96%.
Kaspien Price Performance
NASDAQ KSPN opened at $0.14 on Wednesday. The business's fifty day moving average price is $0.17 and its 200-day moving average price is $0.40. The stock has a market capitalization of $695,100.00, a price-to-earnings ratio of -0.03 and a beta of 0.82. Kaspien has a 1-year low of $0.13 and a 1-year high of $3.45.
Hedge Funds Weigh In On Kaspien
A hedge fund recently bought a new stake in Kaspien stock. SVB Wealth LLC bought a new position in Kaspien Holdings Inc. (NASDAQ:KSPN – Free Report) during the second quarter, according to its most recent disclosure with the SEC. The firm bought 14,392 shares of the company's stock, valued at approximately $36,000. SVB Wealth LLC owned 0.58% of Kaspien as of its most recent filing with the SEC. Institutional investors and hedge funds own 0.29% of the company's stock.
About Kaspien
(
Get Free Report
)
Kaspien Holdings Inc operates an e-commerce services provider. Its platform of software and services enable brand's online distribution channel on digital marketplaces, such as Amazon, Walmart, Target, and others. The company's technology-enabled retailer that delivers brand partners across Amazon.com US, Amazon.com Canada, Target.com, and Walmart.com online marketplaces.
Further Reading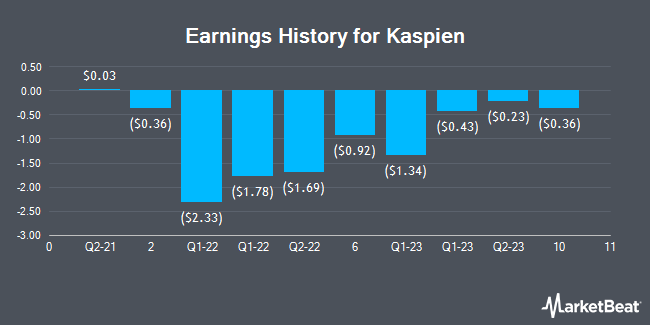 Receive News & Ratings for Kaspien Daily - Enter your email address below to receive a concise daily summary of the latest news and analysts' ratings for Kaspien and related companies with MarketBeat.com's FREE daily email newsletter.