Vince (NYSE:VNCE – Get Free Report) released its quarterly earnings data on Tuesday. The textile maker reported ($0.04) earnings per share (EPS) for the quarter, MarketWatch Earnings reports. Vince had a negative return on equity of 119.86% and a negative net margin of 9.20%.
Vince Stock Performance
Shares of NYSE:VNCE opened at $1.91 on Wednesday. Vince has a twelve month low of $1.79 and a twelve month high of $8.50. The firm has a market cap of $23.56 million, a PE ratio of -0.74 and a beta of 1.55. The company has a debt-to-equity ratio of 5.05, a quick ratio of 0.24 and a current ratio of 1.14. The business has a fifty day moving average of $2.66 and a 200-day moving average of $4.75.
Hedge Funds Weigh In On Vince
A hedge fund recently bought a new stake in Vince stock. State Street Corp purchased a new stake in Vince Holding Corp. (NYSE:VNCE – Free Report) during the 1st quarter, according to the company in its most recent filing with the Securities & Exchange Commission. The firm purchased 10,776 shares of the textile maker's stock, valued at approximately $88,000. State Street Corp owned about 0.09% of Vince as of its most recent SEC filing. Institutional investors and hedge funds own 16.67% of the company's stock.
About Vince
(
Get Free Report
)
Vince Holding Corp. designs, merchandises, and sells luxury apparel and accessories in the United States and internationally. It operates through three segments: Vince Wholesale, Vince Direct-to-Consumer, and Rebecca Taylor and Parker. The company offers a range of women's products, such as cashmere sweaters, silk blouses, leather and suede leggings and jackets, dresses, skirts, denims, pants, t-shirts, footwear, outerwear, and accessories; and men's products comprising t-shirts, knit and woven tops, sweaters, denims, pants, blazers, footwear, and outerwear under the Vince brand.
Read More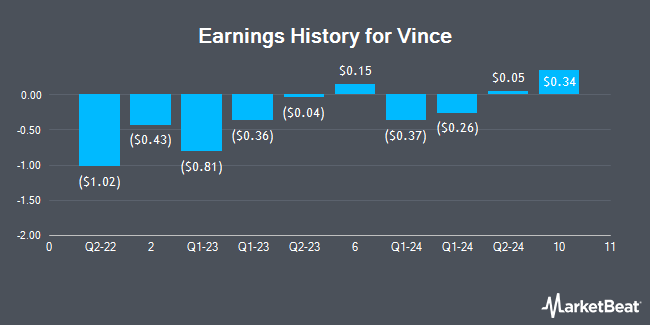 Receive News & Ratings for Vince Daily - Enter your email address below to receive a concise daily summary of the latest news and analysts' ratings for Vince and related companies with MarketBeat.com's FREE daily email newsletter.