Aura Minerals Inc. (TSE:ORA – Get Free Report) Senior Officer Joao Kleber Dos Santos Cardoso sold 3,000 shares of the stock in a transaction dated Wednesday, September 13th. The shares were sold at an average price of C$8.62, for a total transaction of C$25,860.90.
Aura Minerals Stock Performance
Shares of Aura Minerals stock remained flat at C$8.82 during mid-day trading on Monday. 1,374 shares of the company's stock traded hands, compared to its average volume of 32,525. Aura Minerals Inc. has a one year low of C$7.30 and a one year high of C$12.14. The company has a market cap of C$636.36 million, a PE ratio of 11.03 and a beta of 0.44. The stock has a fifty day moving average of C$9.32 and a 200-day moving average of C$9.87. The company has a quick ratio of 1.22, a current ratio of 1.24 and a debt-to-equity ratio of 83.63.
Analysts Set New Price Targets
Separately, National Bankshares lowered their price objective on shares of Aura Minerals from C$16.00 to C$15.00 and set an "outperform" rating on the stock in a research note on Friday, July 21st.
View Our Latest Stock Analysis on ORA
Aura Minerals Company Profile
Aura Minerals Inc, a gold and copper production company, focuses on the development and operation of gold and base metal projects in the Americas. Its producing assets are the San Andres gold mine in Honduras; the EPP/Apoena gold mine in Brazil; and the Aranzazu copper mine in Mexico. The company also holds interests in five other projects that are at various stages of development in Brazil and Colombia.
Featured Articles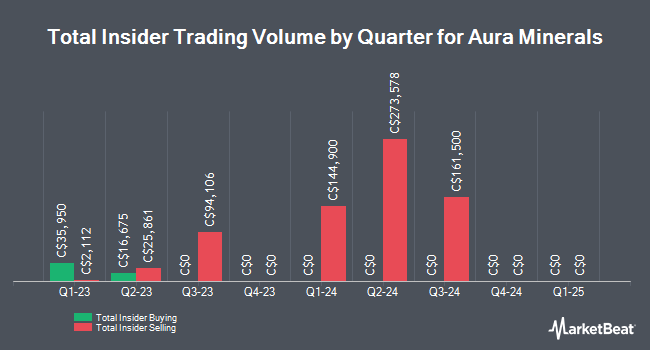 Receive News & Ratings for Aura Minerals Daily - Enter your email address below to receive a concise daily summary of the latest news and analysts' ratings for Aura Minerals and related companies with MarketBeat.com's FREE daily email newsletter.