Ocado Group plc (LON:OCDO – Get Free Report) insider Mark Richardson acquired 26 shares of the company's stock in a transaction dated Wednesday, November 15th. The stock was acquired at an average cost of GBX 565 ($6.94) per share, for a total transaction of £146.90 ($180.40).
Ocado Group Stock Performance
LON:OCDO opened at GBX 560.60 ($6.88) on Friday. The company has a debt-to-equity ratio of 115.96, a quick ratio of 2.82 and a current ratio of 2.46. The company has a fifty day moving average of GBX 586.81 and a two-hundred day moving average of GBX 604.61. The stock has a market capitalization of £4.64 billion, a PE ratio of -950.17 and a beta of 1.63. Ocado Group plc has a fifty-two week low of GBX 342 ($4.20) and a fifty-two week high of GBX 1,017 ($12.49).
Analyst Ratings Changes
OCDO has been the topic of several recent research reports. Barclays downgraded shares of Ocado Group to an "underweight" rating and dropped their price objective for the company from GBX 680 ($8.35) to GBX 430 ($5.28) in a report on Monday, October 16th. Shore Capital reiterated a "not rated" rating on shares of Ocado Group in a research note on Monday, July 24th. Three research analysts have rated the stock with a sell rating, one has assigned a hold rating and one has assigned a buy rating to the company. Based on data from MarketBeat, Ocado Group currently has an average rating of "Hold" and a consensus price target of GBX 600.20 ($7.37).
Check Out Our Latest Analysis on Ocado Group
Ocado Group Company Profile
Ocado Group plc operates as an online grocery retailer in the United Kingdom and internationally. It operates through three segments: Retail, UK Solutions & Logistics, and International Solutions. The company sells general merchandise and grocery products on its Ocado.com, as well as provides online retail solutions to corporate customers; and customer fulfillment center and logistics services.
See Also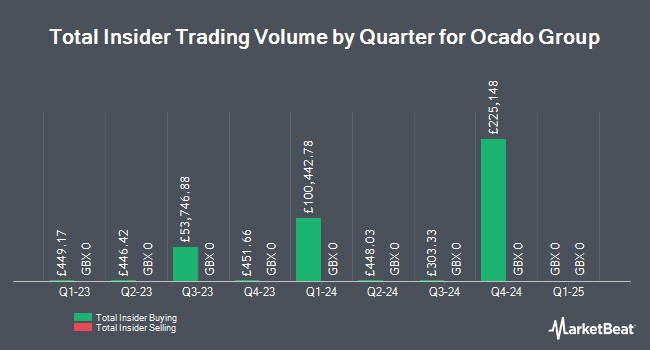 Receive News & Ratings for Ocado Group Daily - Enter your email address below to receive a concise daily summary of the latest news and analysts' ratings for Ocado Group and related companies with MarketBeat.com's FREE daily email newsletter.