ACNB Co. (NASDAQ:ACNB) Director Scott L. Kelley sold 1,500 shares of the company's stock in a transaction that occurred on Wednesday, March 15th. The shares were sold at an average price of $30.96, for a total value of $46,440.00. Following the completion of the transaction, the director now directly owns 14,334 shares of the company's stock, valued at $443,780.64. The transaction was disclosed in a filing with the Securities & Exchange Commission, which can be accessed through this link.
ACNB Co. (NASDAQ:ACNB) traded down 1.13% during trading on Monday, hitting $30.60. The stock had a trading volume of 9,527 shares. ACNB Co. has a 1-year low of $21.36 and a 1-year high of $32.85. The company has a market capitalization of $185.47 million, a P/E ratio of 16.59 and a beta of 0.26. The stock's 50-day moving average price is $29.76 and its 200-day moving average price is $29.08.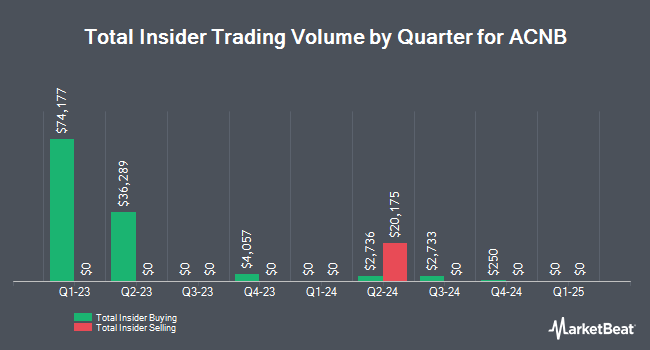 The firm also recently announced a quarterly dividend, which was paid on Wednesday, March 15th. Investors of record on Wednesday, March 1st were paid a $0.20 dividend. The ex-dividend date of this dividend was Monday, February 27th. This represents a $0.80 annualized dividend and a dividend yield of 2.61%. ACNB's payout ratio is presently 43.48%.
Your IP Address:
ACNB Company Profile
ACNB Corporation is a financial holding company. The Company's banking operations are conducted through its operating subsidiary, ACNB Bank (the Bank), and offers a range of property and casualty, life and health insurance to both commercial and individual clients through its subsidiary, Russell Insurance Group, Inc (RIG).
This story was originally published by WKRB News (https://www.wkrb13.com) and is the sole property of WKRB News. If you are reading this article on another website, that means this article was illegally copied and re-published to this website in violation of U.S. and International copyright law. You can view the original version of this story at https://www.wkrb13.com/markets/2024160/acnb-co-acnb-director-scott-l-kelley-sells-1500-shares-of-stock.html
Receive News & Ratings for ACNB Co. Daily - Enter your email address below to receive a concise daily summary of the latest news and analysts' ratings for ACNB Co. and related companies with MarketBeat.com's FREE daily email newsletter.